We Deliver full-service creative design, brand, web and digital agency that helps brands move forward. Over the years, our agency has
helped brands and companies redefine their purpose and unleash their full potential. In addition, we provide our clients with customized marketing
solutions according to their target market to expand their businesses.






CUSTOM LOGO DESIGN
Our experienced designers help companies around the world to develop and become top figures in their competitive industries. We will provide you with a high-quality custom logo design and make your business stands out.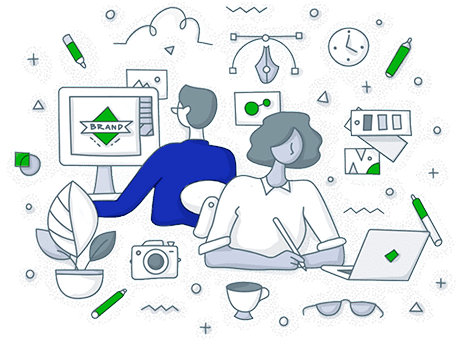 Contact our experts NOW to begin crafting your project.

Ready to get started? Experience the industry's best design deals
structured according to your business needs.
Logo Design
Website Development
Branding
Video Animation
Digital Marketing
Logo Design
Website Development
Branding
Video Animation
Digital Marketing
This logo design package offers remarkable value for companies looking to establish their online presence and increase
their market reach with innovative digital solutions. Benefit from our power-packed combo package, custom made to suit your needs.
Webwooter-Website Design and
Development Company
Unlock Your Digital Success with us!
Welcome to WebWooter!
Where creativity connects technology…
We lead the provision of complete digital solutions. We specialize in logo design, animation, development, web design, and digital marketing. With our prowess and exceptional approach, we help businesses like yours promote their online presence and achieve astounding results. At WebWooter, we understand the potential of captivating designs and effective online strategies. We as a website design company have highly masterly and skilled professionals who combine imaginative aptitude with applied expertise to create visually incredible designs and effective digital campaigns customized to your unique business needs. With us, you gain a competitive fringe in digital topography, managing brand awareness, customer engagement, and business development.
Key Features and Services:

Logo Design:

Make an enduring impression with a professionally designed logo that encloses your brand's spirit and leaves an unforgettable intimation on your audience. Our brilliant designers make your vision public and form visually splendid logos that reverberate with your target market.

Animation:

Bring your ideas to life through attractive animations. Whether you need animated videos, explainer videos, or motion graphics, our animators technically combine artistry and storytelling to deliver graphically engaging content that seizes consciousness and drives engagement.

Development:

Build vigorous, user-friendly websites and applications that deliver uncommonly engaging interfaces. Our development team takes full advantage of the latest technologies and best practices to create reactive and measurable solutions that orient with your business objectives.

Web Design::

Inspire your visitors with visually outstanding websites that reflect your brand's persona, essence, and equity. Our innovative designers craft unique and instinctive interfaces by making sure smooth navigation, tempting elegance, and excellent user engagement.

Digital Marketing:

Augment your online visibility, generate quality leads, and drive conversions with our results-driven digital marketing strategies that comply with briskness and accuracy. From search engine optimization (SEO) and content creation to social media marketing and running paid ads, we recruit a data-driven pathway to ameliorate your digital existence and convey scalable results. As a digital marketing agency, we know our professional competencies that take you to the next level of achievement and success.
Unfasten your business's full capability with WebWooter's inclusive conglomeration of digital solutions. We don't compromise our commitment in:
Ready to begin your digital conversion? Contact us today for a consultation and let WebWooter untether the right capacity of your brand. Together, we'll create a remarkable digital presence that mesmerizes your audience, enhance growth, and drive your business ahead.